TAKE REST IN OUR RETREAT
We're a Spa & Wellness
Centre opened since 2011
Mentale Beauty Spa was created in 2011 by Maria Constantinou, holder of the Frederick Institute of Technology Diploma of Aesthetics, a licensed aesthetician and holder of the Cidesco International Diploma. Recognizing the importance of the development of cosmetics and cosmetology in conjunction with her desire to be constantly updated, Maria Constantinou has completed a series of trainings by world-renowned companies such as Babor, Mesoesthetic, Senteales and Biologique. At the same time, in conjunction with her and her team's training in the latest Candela laser technology and in cosmetic medicine machines, they are able to provide a holistic and personalized package of products and modern effective treatments.
Situated in a strategic spot outside Nicosia, in a lush setting, in Kornos, Mentale Beauty Spa is a paradise of beauty and wellness that offers top medical aesthetic treatments, such as specialized facial cleansers for every skin, slimming treatments and laser treatments.
… welcome to the world of beauty!

Maria Constantinou
Spa Manager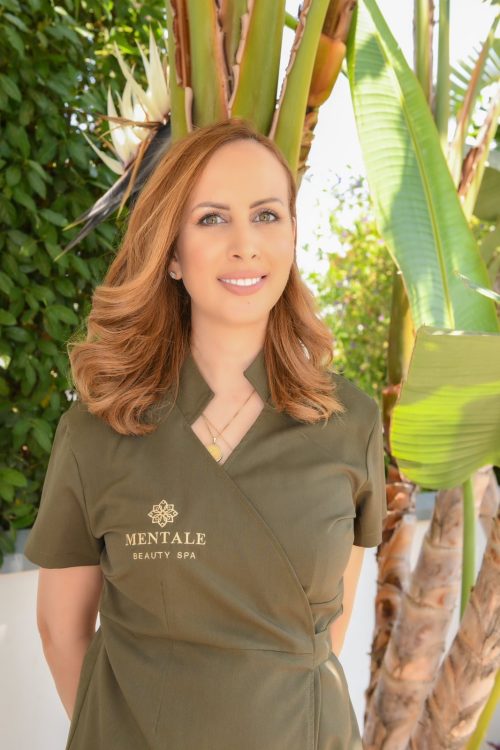 Our Mission
At our beauty spa, we believe that self-care is essential for overall well-being. Our mission is to help our clients achieve inner calm and outer beauty through our luxurious and personalized treatments, in a serene and welcoming environment. We strive to exceed our clients' expectations and leave them feeling refreshed, rejuvenated, and confident.
Our Philosophy
Our philosophy is centered around the belief that beauty comes from within. We believe that self-care is not just about looking good, but also feeling good on the inside. Our approach to beauty is holistic, and we use natural, high-quality products and techniques to enhance our clients' physical, mental, and emotional well-being. We are committed to providing a personalized experience that caters to each individual's unique needs, while creating a warm and inviting atmosphere where they can relax, rejuvenate, and leave feeling refreshed and renewed.
Our Vision
Our vision is to be the premier beauty spa in our community, known for our exceptional services, personalized care, and commitment to holistic well-being. We aim to create a haven where our clients can escape the stresses of everyday life and indulge in a serene, luxurious, and rejuvenating experience. We strive to continuously innovate and improve our offerings to exceed our clients' expectations, while maintaining our focus on natural, high-quality products and sustainable practices. Ultimately, our goal is to help our clients achieve their best selves, inside and out.
Mentale Beauty Spa is a place where you can retreat into a sanctuary
with healing treatments, soothing sounds and caressing aromas
OUR ADVANTAGES
Why Choose Us